---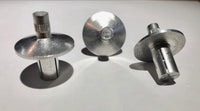 This precision part has the 1" diameter jumbo head preferred by many sign installers and is designed to be used either with or without a washer. This part ships without washers.
3/8" diameter jumbo head aluminum drive rivet, grip range .125"-.250".
Ships FREE by USPS Priority Mail or by UPS Ground.
P/N X-Ref.:  DRAU126ABJ, 38-112-06-16, VCR221, DR-38AL1, DR-38AL1(U).